Hello
.
Back to "Places I've been..." »
Every place I've ever been in Singapore.
Started this little project not too long ago. Done in Google Earth, off memory mostly, although it does help that I've been taking at least a photo every day for the last 5 and a half years, as part of another project I have going on.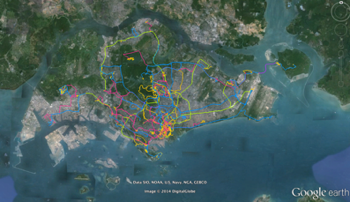 The different coloured lines indicated different modes of transport:
Yellow — Foot (Foot only map)
Green — Rail transport
Pink — Public bus (Public bus only map)
Blue — Car / taxi / other privately-hired transport
Purple — Other motorised transport
Correct as of 13 Aug 2014
Back to "Places I've been..." »
Copyright © Kevin Wong