Hello
.
Back to "Places I've been..." »
Every place I ever went in London in 2014.
Went to London for a conference for a conference in June 2014. Took the opportunity to explore the place a bit. Done in Google Earth, off memory mostly, although it did help that I'd taken a few photos.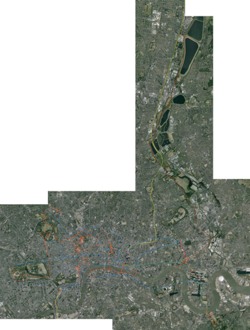 The different coloured lines indicated different modes of transport:
Orange — Foot
Blue — London Underground
Green — Docklands Light Railway
Yellow — National Rail
Pink — Bus
Tracking 10-20 June 2014.
Back to "Places I've been..." »
Copyright © Kevin Wong